Dear Elder Schenewark,
What a wonderful Christmas day, talking with you over Skype. Remembering you flexing your "guns" for us still makes me smile. We needed to laugh together. It was perfect, thank you! Merry Christmas to me!
Please work on sending more pictures. I miss seeing your face on a weekly basis!
Since the boys were all out of school this week, they spent a lot of time fishing in our pond. They'd go right when they got up, and then later in the afternoon. They also lose a lot of lures, so they were all hoping there'd be one or two new lures under the tree.
Tanner and AnneMarie left Utah, and spent a few days in Las Vegas, with her family, before flying to Texas. This was one of my favorite pictures from Nevada, Tanner at Calico Tanks Trail in Red Rock Canyon.
They got to the airport after 11:30 p.m., their time, and arrived in Texas 5:40 a.m., and it was a two hour flight! Dad picked them up. The first thing Tanner did when he walked in the front door was run to you and give you a hug. The cardboard you that stands by our piano. You are well loved and missed!
We let them sleep almost until lunch time, before taking them to Dinosaur State Park. Okay, maybe we let them eat breakfast first. And play a game or two.
The state park has dinosuar track sites that you can drive to, park your car and hike down to see. Because it's not summer and hot, the Paluxy River was full, and the tracks underwater. You could still clearly see them. We even got in the water to cross to the other side to see more, which ended up being your siblings' favorite part of the day. Forget looking for fossilized dinosaur tracks. Just show them some water, let them get wet, and tell them they can skip a few rocks across the river.
Christmas Eve we invited the missionaries over for dinner and our annual Yuletide Log sandwiches. AnneMarie and the missionaries all loved them. Dad had cooked pastrami and sauerkraut, which might both be new additions this year.
While we were eating, we mentioned caroling, and they jumped in our Schene-wagon and helped us visit five or six families. One such family caught us in the act with her camera. Sawyer played an intro on his clarinet to
Silent Night,
before we began to sing. Fun!! This is definitely a must do tradition we need to continue on Christmas Eve. Your father told me some interesting Texas Christmas facts, one that Germans were the first to bring caroling to Texas. And most Texans consider tamales a part of Christmas, so we're thinking of adding this to our celebration somewhere, somehow.
Breyer was in cute form the night before Christmas. She had Sawyer's help to leave a plate of cookies and a glass of milk for Santa. After three attempts at getting her in bed, she came running out, with tears running down her cheeks. "Mom, I just can't go to bed. I need to leave carrots for the reindeer." I suggested she put one on the plate with the cookies. More tears. "Mom, no! It has to go outside!"
She made Christmas morning a joy. All your brothers were very excited, but she was joyful. She was SO happy the carrot had been eaten.
After opening a few presents, we literally ate breakfast, helped Aunt Becky with her Skype getting ready for Kaleb's call, and then you called. Merry Christmas to me ;-) Cooper, of course, got to put together a few Legos.
After your phone call we traveled up to Tyler and family. We played a LOT of games, including Spades, and a new game from AnneMarie, called Golf. We took AnneMarie to the bamboo forest. It was a grand adventure, and still one of my favorite Christmas vacation traditions with Uncle Brad.Of course Breyer sequestered herself with the dogs.
Sunday morning we went to services on Shiloh Road, as usual, then joined your cousins at their church. Pastor Dave's jokes weren't as funny to your father as in the past, but the services were enjoyable.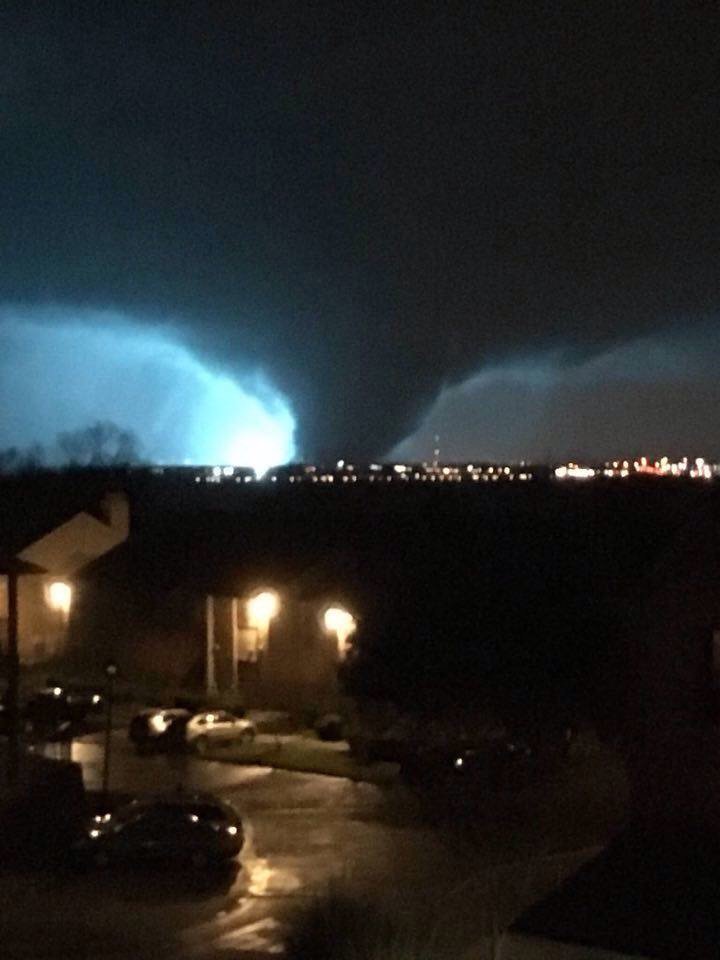 Last night the Dallas and Garland area had multiple tornadoes with 11 confirmed dead and over 600 homes and buildings destroyed. The cold front was moving through Tyler just as we got out of church, so we quickly packed up the van, and stayed to play games and wait out the storm, since their tornado shelter is very comforting.
Tanner and AnneMarie have endured a lot of teasing, all in jest, but truth be told they've been fun to have around. It can't be easy to be the first married, and have everyone watching, but seeing their love for each other is great for the kids to see. They're a great example of respect and love to all their younger family members.
My first week as Relief Society President is over, and I've been gone four of the days. Before I left, I had a female surgery, a newborn baby be born, and in the NICU, and a lady with kidney stones.
I saw Freddie Hill post a picture on his timeline that Tanner had shared of you on your page (you in front of the AZ temple). He still thinks of you. I heard he had a stroke, and was in the hospital this past weekend, in case you decided you had some letter writing time.
I meant to tell you I did type a Christmas letter to send out, but it was lost and I didn't have the energy to recreate it. It's probably just for the best, since you probably wouldn't want me to tell everyone how wonderful you are ;-)
But these three folks extol your virtues everyday, all day long. Your family all love you and await with eager breath for your next letter.
I'd better close and get this sent. I found another quote from Pres. Ezra Taft Benson that I like.
"Each day the forces of evil and the forces of good enlist new recruits. Each day we personally make many decisions showing the cause we support. The final outcome is certain—the forces of righteousness will win. But what remains to be seen is where each of us personally, now and in the future, will stand in this battle—and how tall we will stand. Will we be true to our last days and fulfill our foreordained missions?"
Pastor Dave also had a great quote today, from C.S. Lewis:
"Christianity, if false, is of no importance, and if true, of infinite importance. The only thing it cannot be is moderately important."
You're important, infinitely, as well as your work.
Love,
Mom